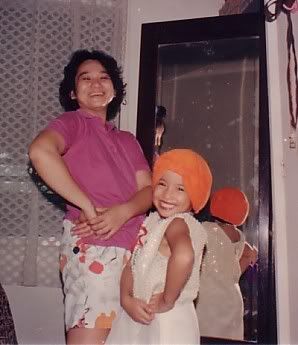 It's our mother's birthday, and our asshole father takes her to court to celebrate her GOLDEN YEAR! (They're divorced, yadda yadda.) Long story short, get a pre-nup, y'all!
With that said, my mama has been an amazing support to me through the years! I couldn't have been able to focus on my art career in the height of the turbulence in my life, so I am terribly grateful to her!
Here's a photo of us both when I was about 5 in my grandmother's wedding dress...and a random orange turban I found.